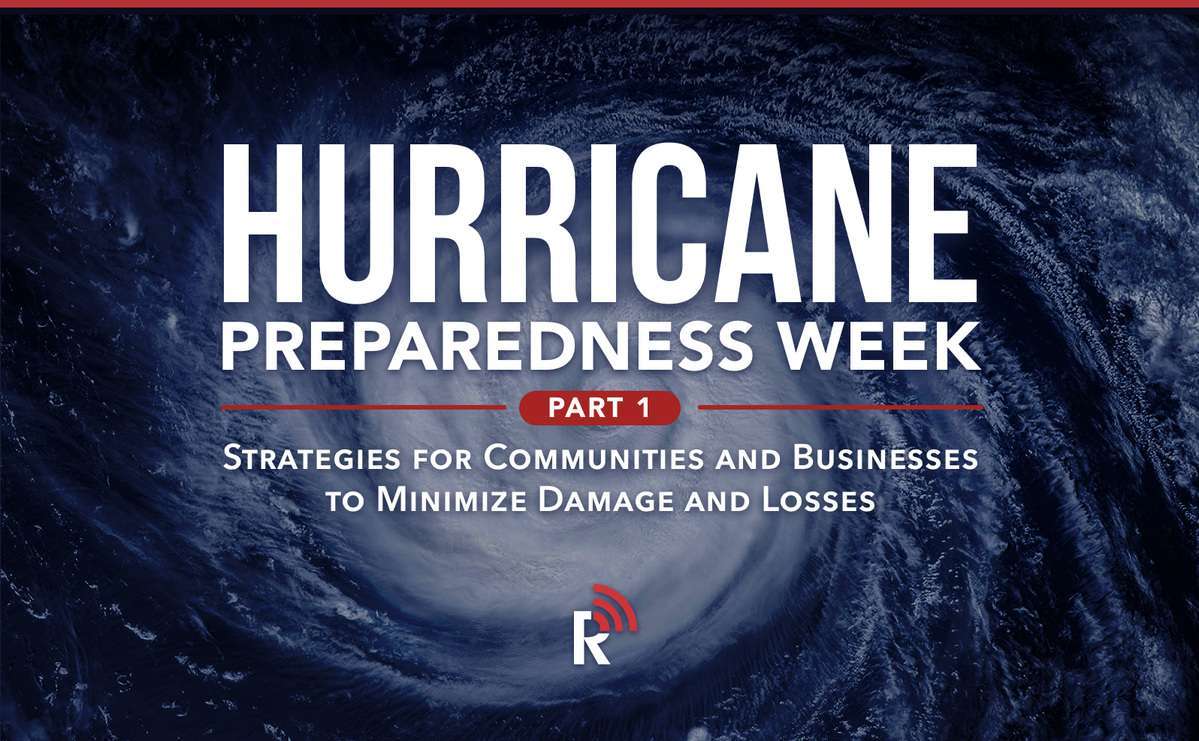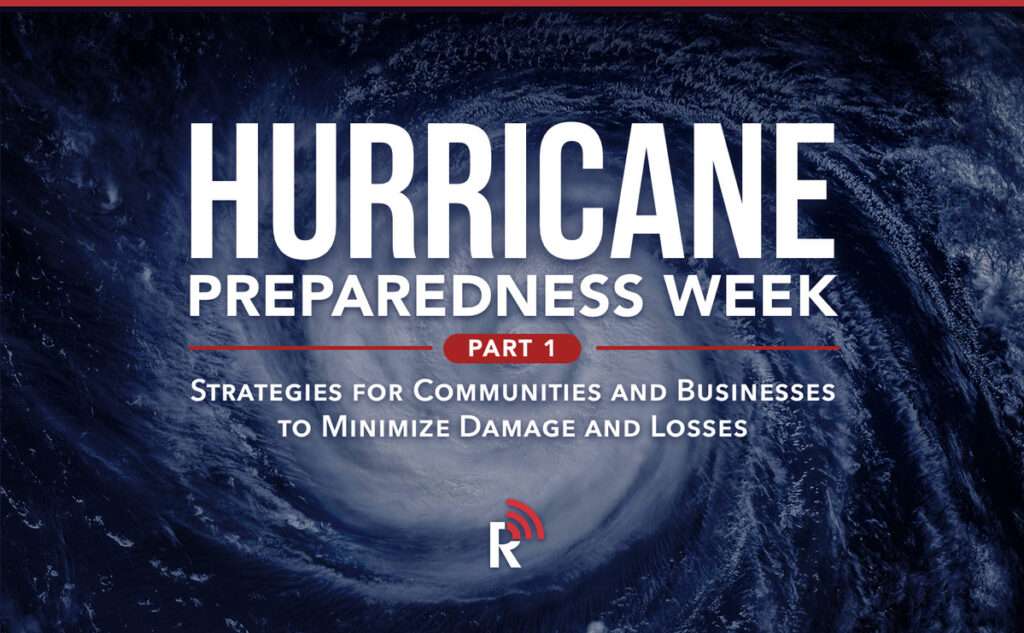 Hurricane Preparedness Week: Strategies to Minimize Damage and Losses
Hurricanes can inflict severe damage on communities, resulting in significant losses to life and property. However, there are methods to minimize such risks and prevent unnecessary damage. So, it is essential to consider effective ways to prepare and educate your community on the impending threat of a hurricane. This is the goal of Hurricane Preparedness Week.
Hurricane Preparedness Week, slated for April 30-May 6, is a way to create awareness and equip the nation with the necessary tools and knowledge to prepare for a hurricane. Experts realize that adequate preparation and communication for a hurricane are keys to mitigating potential damage and loss of life, ensuring a quicker recovery and minimizing disruptions to businesses.
This article will examine the impact of hurricanes, explore strategies that governments, communities and businesses can use to enhance their preparedness and emphasize the role of communication in facilitating response and recovery efforts. By providing this critical information, we aim to foster greater preparedness and ensure the safety of all citizens in the event of a hurricane.
What kind of damage do hurricanes cause?
Thankfully, the United States has not experienced a natural disaster where damages have reached the one billion mark this year. However, each year the U.S. usually averages around eight events, and within[SG1] the past five most recent years, the U.S. has averaged 15 billion-dollar weather and climate disasters each year.
With the hurricane season officially starting June 1, the rest of the year remains a danger, especially since the fall of 2022 saw the top most costly hurricanes – Hurricanes Fiona, Ian and Nicole.
If we look at Hurricane Ian, which made landfall on Florida's coast on September 28, its wind speed was measured at 150 mph. This massive hurricane devastated the coast with wind, extensive flooding and power outages. The area's infrastructure was destroyed, along with health facilities, schools and power and water systems.
The total death toll from Ian was 148, 119 caused by flooding, winds and other dangers during the storm. However, hurricanes like Ian also cause damage to the surrounding areas and up the entire coastline states.
When hurricanes reach land, the heavy waves or storm surges, rain and strong winds damage entire communities. The total damages of $1.8 billion to Florida agriculture demonstrate how important it is to prepare for hurricanes.
Preparing governments, communities and businesses
To ensure optimal preparedness for the upcoming hurricane season, it is crucial to establish a reliable system for monitoring and responding to potential storms. The ability to identify and act upon relevant weather intelligence is fundamental to safeguarding lives and minimizing a hurricane's impact. By proactively monitoring potential threats and emerging situations, organizations can mitigate risks and improve response time and recovery efforts.
Early warning systems play a crucial role in disaster preparedness and response. Research has demonstrated their effectiveness in predicting and responding to hurricanes. These systems provide advance notice of an impending hurricane and disseminate critical information to affected communities, enabling them to take necessary action.
Regroup Mass Notification provides an all-in-one solution for weather monitoring and response. Regroup partners with the National Weather Service (NWS) and is recognized as a Weather-Ready Nation (WRN) Ambassador by the National Oceanic and Atmospheric Administration (NOAA). The integration with the NOAA weather and NWS allows Regroup to send real-time, location-based watches, warnings and alerts to team members automatically in any location across multiple channels.
Regroup also partners with TX360, a leading threat intelligence provider, to offer 24/7 monitoring of relevant information regarding risks to an organization. This technology is cloud-based, so even when power is down, weather warnings and important threat intelligence are always available. In addition, the platform is easy-to-use, can be integrated into existing systems and is secure.
Improving communication during and after a hurricane
Effective communication is paramount when preparing for hurricanes. Keeping abreast of the latest developments before, during and after a natural disaster is crucial for ensuring the safety and well-being of everyone. Rather than relying on disparate communication methods such as social media or calls, a comprehensive communications platform can significantly improve overall communication.
Thankfully, many governments, businesses, health facilities and schools recognize the value of investing in a mass alert system such as Regroup Mass Notification. These systems provide faster and more insightful communications, enabling state and local governments to protect people and assets more effectively throughout all stages of a hurricane.
By using a streamlined mass communication system, organizations can ensure they are well-prepared to manage and protect their communities from harm before, during and after a hurricane.
Before a hurricane, Regroup's robust communication system can send automatic severe weather alerts from the National Oceanic and Atmospheric Administration (NOAA) and FEMA's Integrated Public Alert & Warning System (IPAWS) for people to prepare for an impending hurricane. The Regroup system can automatically send and receive hurricane updates, warnings and all-clear messages through multiple communication channels.
Communicating during a hurricane can be challenging since people may have evacuated, and power and phone lines may be down. Therefore, it is imperative to use a communications system that can reach people where they are when seconds count. Regroup's unique cloud-based system is designed to withstand even the worst catastrophes and allows users to send and receive messages to large groups of people no matter where they are located.
Regroup also offers several features important when communicating with people during a hurricane, including:
SMS/Text Messaging
If a hurricane threatens the public, sending bulk SMS messages is the most effective way to send critical information and emergency alerts. Text messages reach people where they are, especially during a hurricane, when most people are evacuating the area. Research has shown that text messages have a 98% open rate and 90% of texts are opened within three minutes.
Regroup's mobile app allows administrators to notify thousands of people simultaneously. In addition, pre-programmed templates get information out quickly with only two clicks.
Geo-Targeted Messaging
Regroup's GeoFence messaging empowers administrators to send timely alerts to recipients with specific messages to recipients inside or outside specified areas on a map. Regroup is also the only mass alert system to add entry and exit messages for people traveling into and out of those selected areas.
Automated Critical Alerts
An automated emergency notification process accelerates the transmission of critical alerts and reduces the margin for human error. In a crisis, having the ability to issue evacuation orders or instruct people to shelter in place automatically without any human intervention can save valuable time and lives.
Unified Emergency Communications
Bringing together multiple methods of communication into one platform speeds the communication process and makes messaging less confusing to recipients. Sending concise and accurate critical alerts through one platform is quicker and more reliable. In addition, Regroup integrates communication across multiple channels simultaneously, including digital signage, PA systems, websites and social media, all with a user-friendly interface.
After a hurricane, a robust communications system can help with the long and arduous recovery process, which requires both public agencies and private industry cooperation. The return of services like electricity, telecommunications and other infrastructure can take weeks or even months to restore, and coordinating immediate relief efforts can be challenging without a reliable communications system.
Residents who enroll to receive Regroup's automated severe weather notifications will be alerted with updated information regarding important safety measures, evacuation orders and immediate dangers. Alerts will be successfully delivered even when power lines are down due to Regroup's redundant, cloud-based platform.
Insurance companies also benefit from a mass notification system like Regroup's during hurricanes. The Regroup platform allows agents to communicate important information across multiple channels to policyholders without worrying about hitting messaging limits. They can send notifications in a certain region and communicate with agents traveling to specific areas or employees in a particular department. The Regroup system also integrates with other insurance systems, such as claims, processing or policy administration systems.
Conclusion
Hurricane Preparedness Week is an excellent opportunity for the public to learn the best ways to prepare for a hurricane and mitigate damages and loss of life. Experts agree that one of the most critical factors in effectively responding to a hurricane is adequately preparing and utilizing advanced communication methods.
In times of crisis, public safety communication is vital before, during and after a hurricane. Regroup's mass communication platform is robust and easy to use, allowing for automated alerting across multiple channels and devices. Regroup also fully integrates with IPAWS and the NWS, ensuring that vital information is disseminated quickly and efficiently.
Regroup helps governments, enterprises and communities prepare and respond better to hurricanes. Learn how Regroup Mass Notification can help you better protect your people, property and assets by calling 855-REGROUP or emailing us at inquiries@regroup.com.
Ready to see more? You can schedule a no-obligation demo of Regroup's powerful notification system
here
.