Keep Your People Safe & Your Business Running
During an Emergency

.

The #1 Mass Notification, Emergency Preparedness, and Business Continuity Software for Corporations, Hospitals, Governments, and Campuses.

Trusted by
Thousands

of Companies for over

17

Years
Our customers love us. Our
98% retention rate

can't be beat!
Face Emergency
Challenges

with Confidence Award Winning
Industry

Solutions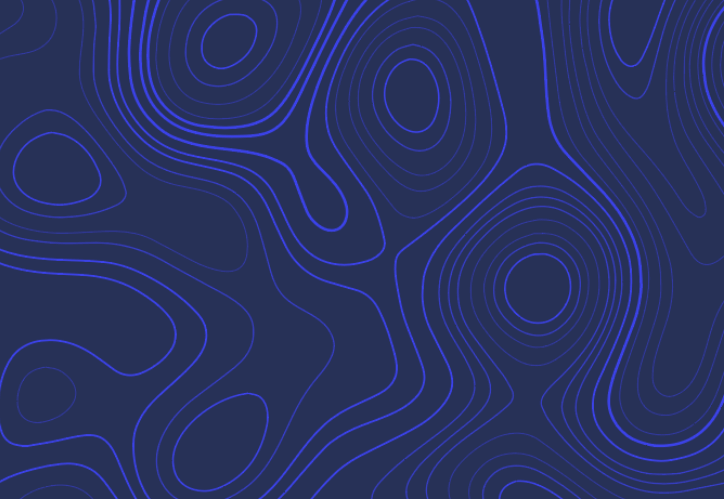 Customizable Products & Features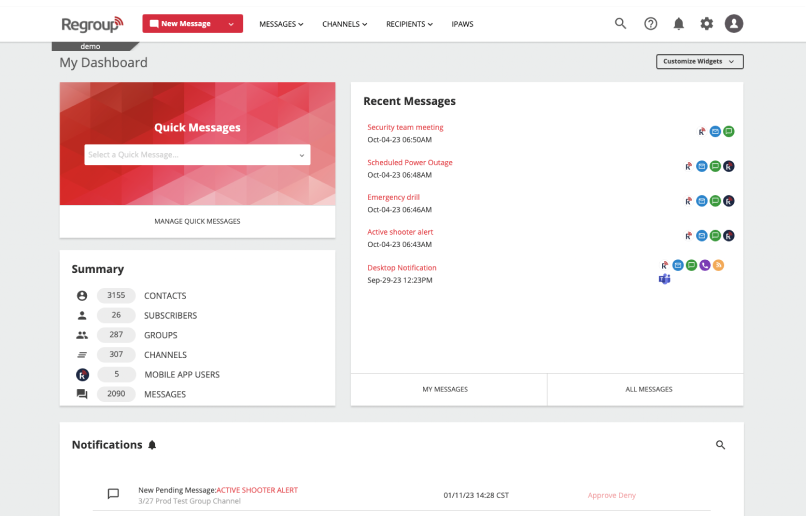 When seconds count, pre-programmed QuickPost Templates help you get information out fast
Unlimited messaging options to meet your needs so you can always send your important messages.
Get status updates or request responses through a variety of channels and recipients can respond quickly and easily from wherever they are. Our reporting dashboard shows you who has responded and who hasn't so you can take alternative steps as needed.
Automated alerts from the Integrated Public Alert & Warning System (IPAWS), NOAA, National Weather System (NWS), ShakeAlert early earthquake warnings, and more.
Send messages from anywhere with only 2 taps. Broadcast your message via email, text/SMS, push notifications, desktop alerts, voice calls, digital signage, PA systems, website portals, social media outlets and more.
Regroup Mass Notification offers you the most ways to send and receive messages quickly and reliably. From emergency notifications to daily operating updates, we offer unlimited messaging options so you can always send and receive important messages anywhere and at any time. Custom
Pricing

as Unique as Your Organization
Market Options




Via G2 data

Emergency Communications




Avg. Competitor Features

Business Continuity




Avg. Competitor Features

24/7 Support

Round-the-clock assistance ensuring uninterrupted communication services.



Multi-Channel Messaging

Diversified messaging across SMS, email, voice, and app notifications for maximum reach.

Instant Communications

Real-time messaging to swiftly inform and update your audience during critical events.

Multi-Industry Solutions

Customizable communication solutions tailored to meet diverse industry-specific needs.

GeoFence Messaging

Location-based alerts to target specific areas for efficient and relevant communication.

Threat Intelligence

Advanced threat detection and alerting to proactively manage potential risks.



Average Cost

See Pricing
See Pricing
See Pricing What our Customers Say About Regroup
"Our team started the process by looking for a system that could address many of our communications challenges while easily integrating into our learning management software—Ellucian. Additionally, we especially wanted a solution that would allow us to send messages through a variety of channels to help us reach more of the campus community in the way they preferred to receive Linn-Benton communications."
"Regroup meets all of our needs and is extremely easy to use."
"We like how easy it is for non-technical users to send messages through Regroup and we're very pleased with their reporting features."
"With Regroup's email and SMS abilities, we're able to reach our engineers in the event of an emergency and get responses from them very quickly."
"Regroup helps us communicate more efficiently within our project teams and trade partners. It's a great tool to quickly distribute important information throughout the entire project team."
"We already had the groups set up in Regroup. Within 10 minutes of hearing about (the storm) we had reached more than 22,000 people through email, voice, text, and blasted every phone on campus,"
"When our campus was forced to close for several days, the administration knew that it was important to update students and employees using a variety of methods, but the most reliable was going to be through Regroup."
"Without the Regroup app we would have had no ability to disseminate vital information to our students and staff to keep the institution running and classes are in session as scheduled."
"One of the features we find beneficial is the ability to text to join a group. We use this feature for special events, such as the county fair, where attendees can text a specific number to be added into a specially created group. These users can receive important messages for the duration of the event and then be cleared from the system afterward to ensure they are not receiving unwanted messages."
"Prior to COVID, we really didn't have to use [Regroup] often, which was a good thing. Then all of this happened and we use it weekly to send out three messages to three separate groups: employees, residents, and families of residents."
More Testimonials