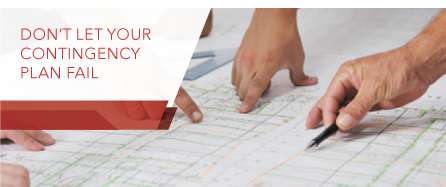 Why Business Continuity Plans Fail
Business disruptions occur all too frequently — that's a fact. During an unexpected crisis within your business, the last thing you would want to happen is for your contingency plan to fail. Believe it or not though, well-thought-out plans often fall short of expectations.
Our friends and partners at Continuity Co., LLC have prepared a useful and comprehensive document addressing why business continuity plans fail. "12 Common Causes and How to Prevent Them" is a guide that could save your organization from catastrophe. Download it here.
Continuity Co., LLC is a risk management, business continuity and disaster recovery services company that specializes in helping businesses mitigate risk through effective planning and management. Recently recognized by CIOReview Magazine as one of 20 most promising disaster recovery solution providers of 2015.
Business continuity in the aftermath of a disaster is crucial. Make sure you have a strong and efficient plan to avoid unpleasant surprises. By integrating a robust, powerful and easy-to-use mass notification system with a thorough business continuity plan, you'll know your organization can be better protected.
Prevention is the best solution amidst a crisis. Click here to download 12 Common Causes and How to Prevent Them.
Learn how Continuity Co., LLC can help you cover all aspects of effective disaster preparedness for your organization and visit here or call +1 877-565-8324.
Regroup Mass Notification, the DRI 2015 Notification System of the Year, offers easy, one-click messaging to mobile phones (text/voice), landlines, email, social media, digital signage, websites and more. When incorporated with your contingency plan, those capabilities will better assure that your plan won't fail during a disaster situation because of poor and inefficient communication.