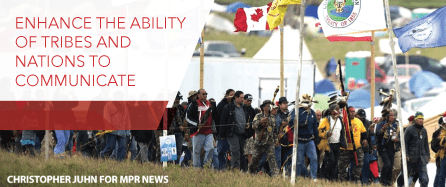 Understanding the Impact of Communication on Tribes and Nations
Mass notification is key to increasing public awareness and for conducting important Tribal affairs. Reliable, easy-to-use Tribal communication tools greatly enhance the ability of Tribes and Nations to communicate about day-to-day interests and to respond more effectively during emergencies.
These tools are particularly important for keeping geographically dispersed Tribes and large reservations connected and tribal members informed.
Critical issues, such as the dispute over the Dakota Access Pipeline at Standing Rock, require multiple, simultaneous communication channels with council members, organizations and members of the Tribe. This helps to ensure important stakeholders are kept aware of fluid situations with quick, simple mass communication methods.
As an industry-leading Tribal communication provider, Regroup provides secure, one-click messaging from computers, tablets and our AlertManager mobile app to reach Tribal members via text, phone call, social media, push notifications, websites, RSS feeds and any other connected device — virtually instantaneously.
With Regroup's intuitive platform for the Integrated Public Alert and Warning System (IPAWS), your Tribe or Nation can easily expand its reach during emergencies with Wireless Emergency Alerts (WEAs) that supercede cell towers, during times of high call volume, to ensure message distribution, including TV and radio.
Regroup's robust capacity to send 65,000 messages per minute enables Tribal councils to simultaneously conduct internal government business, connect and enlist the public and connect with other reservations and the U.S. Federal Government. Use Regroup to:
Notify members of council affairs
Increase community participation
Coordinate road and infrastructure work
Collaborate on land management projects
Alert the Tribe of emergencies
Connect easily with external stakeholders
We offer reservations the opportunity to harness one platform to span multiple locations. Under one umbrella, various locations can have a customized level of autonomy and independence, according to their unique requirements. Using our platform allows Tribal members to reach anyone, from any location, or combine forces across multiple locations.
Learn how other Reservations have improved Tribal communications with Regroup's mass communications platform by downloading our informative white paper, Regroup for Tribes and Nations