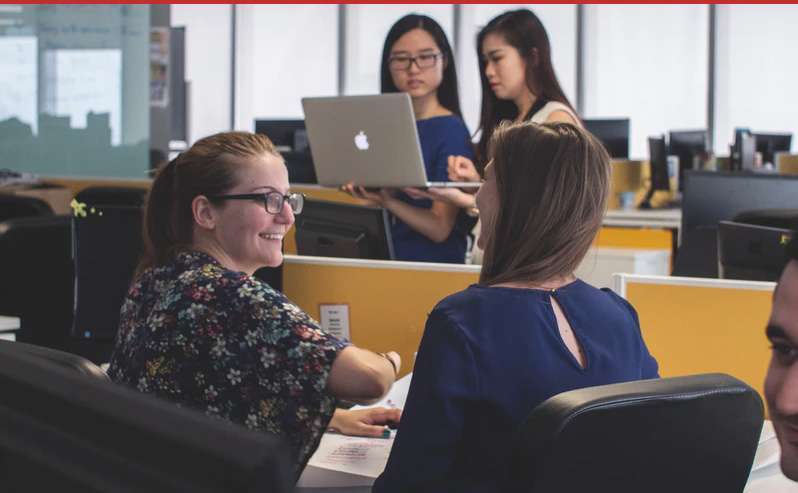 Turbocharge Microsoft Teams with Regroup Mass Notification
Creating an ecosystem for your entire organization is simple with Regroup's Microsoft Teams integration. See how your entire team can collaborate and communicate in more effective ways.
The popularity of Microsoft Teams has skyrocketed since its introduction in 2016. Because of its tight integration with other business-focused Microsoft products, it has become a favorite of organizations with large and remote teams.
Teams allows your workforce to chat, collaborate over video and work in concert through native Microsoft apps like Word or Excel. Since COVID-19 has created an unprecedented number of remote workforces, Teams has helped companies and government agencies overcome the challenges of working in a newly-dispersed environment of team members and team leaders.
Regroup has recently introduced a Microsoft Teams integration that functions seamlessly with the Teams environment to enhance day-to-day communication and provide critical notifications when needed. This integration provides an easy-to-user and familiar interface for administrators and end users, and it delivers the additional functionality that makes team communication more robust.
Regroup and Microsoft Teams for Everyday
Though on its own, Teams is a comprehensive and powerful tool for collaboration, Regroup's integration provides a new suite of efficient communication tools to help you keep your team on point. This suite of tools complements your current communications plan without upgrades or changes to your existing infrastructure.
Our integration delivers a seamless database and contact management bridge that keeps communications simplified and up to date. Regroup can deploy important messages through your Microsoft Teams environment as well as to email, text/SMS, intranets and more. This ensures everyone in your organization gets your message no matter where they may be.
For administrators and department leaders, Regroup allows you to segment message and alert recipients by team, location, department or by any other criteria you apply. This is particularly useful for meeting reminders, planned messaging, policy updates or shift changes. Since Regroup provides unlimited custom templates, administrators and managers can hone their messages depending on the group of recipients.
Regroup also provides comprehensive reporting to let you know who is reading your messages and when you should send reminders.
For team members, this creates a more complete work ecosystem where they have one familiar place for collaboration, chat, messaging email and more.
Regroup as an Emergency Alert Tool
Whether your workforce is under one roof or dispersed, emergencies can and do happen. When critical situations occur, Regroup goes into overdrive, delivering emergency alerts to your entire organization or just a segment.
Regroup delivers automated alerts from NOAA/NWS (National Weather Service) when severe weather conditions threaten your area. Combined with Regroup's geo-targeting capabilities, supervisors can quickly alert recipients in specific regions with additional alerts sent to those entering an affected area.
Other critical notifications can include interruptions to supply chains, location closures, area outages and more. And, because Regroup can deliver even when cellular towers are overloaded or down, your recipients will still be able to receive your most important notifications.
Bringing The Workforce Closer Together
Regroup's Microsoft Teams integration brings your entire network closer to a single environment solution. With a seamless connection to data and contacts, a simple-to-use messaging interface and single sign-on logins for security, Regroup is the perfect complement for large and remote workforces to stay safe, informed and productive.
Your Next Steps:
We invite you to download Regroup's Microsoft Teams Integration Guide. This quick read will show you how to complement your Teams environment with robust and reliable communication tools from the same, familiar interface, and how easy it is to connect Regroup with your existing data and contacts.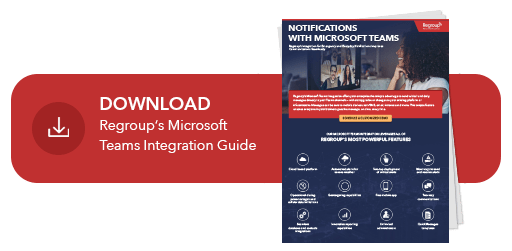 Microsoft, Word and Excel are registered trademarks of Microsoft Corporation US.