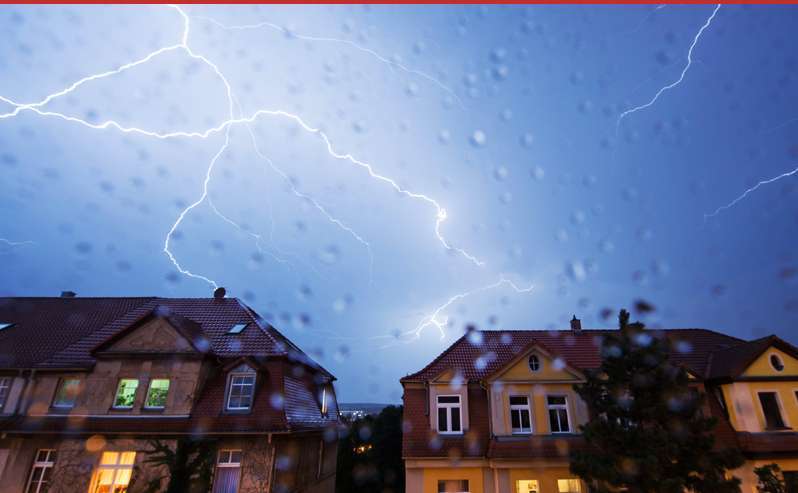 Regroup Mass Notification's Top Lightning Safety Tips for Outdoor and Traveling Workers
As part of Regroup's Summer Safety Series, learn the best ways to protect yourself and others during lightning storms with tips for weather safety.
Although the chances of being struck by lightning in a given year are arguably low (roughly one in a million, according to the Centers for Disease Control), the consequences of a lightning strike are quite serious and oftentimes fatal. During summer and inclement weather patterns, thunderstorms and frequent lightning can materialize very quickly, placing outdoor workers at serious risk of harm and injury.
As we've previously mentioned, summer months can endanger outdoor and traveling workers in a number of ways. Reviewing the risks and training team members on the necessary safety precautions are essential for keeping people safe. But, when rain and thunderstorms appear and move in quickly, additional care must be taken to prevent serious injury.
Hard Facts About Lightning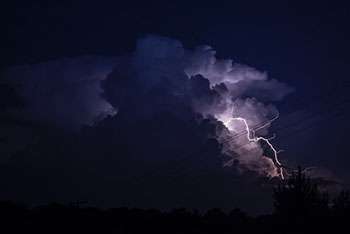 In 2020, 17 lightning strike fatalities were reported in the United States by the National Weather Service (NWS) and the National Oceanic and Atmospheric Administration (NOAA). The states of Texas and Florida reported the highest incidents of such strikes. NWS has reported higher numbers in previous years with 40 confirmed fatalities nationwide in 2016 alone. A large percentage of these strikes occurred during non-recreational activities such as cutting tree limbs, construction, and roofing.
In survivors of lightning strikes, serious injuries and permanent disabilities can be suffered as the long-term effects. These include severe burns, brain damage, and cardiac issues.
Lighting is not a feature of thunderstorms exclusively. It can be observed in intense forest fires, heavy snowstorms, hurricanes, and volcanic eruptions. According to the National Geographic Society, lightning detection systems in the United States clock an average of 25 million strikes of lighting each year.
Safety Precautions During Lightning And Thunderstorms
Your entire workforce should have instructions for avoiding danger during thunderstorms and lightning activities. This includes those on-site and those in the field. But, for outdoor workers in particular, a clear list of safety instructions should be provided and adhered to by each employee.
Your organization may already have procedures in place to deal with inclement weather and outdoor workers. However, it's useful to review these with your team when the high-weather season in your region approaches. Even basic safety rules can be helpful and should be communicated with your team members.
Check weather forecasts before heading out.
If weather forecasts call for thunderstorms, reschedule outdoor assignments.
Go indoors if a thunderstorm approaches.
When caught in a storm, never seek shelter under a tree. If no other shelter is available, stay low, with as little of your body making contact with the ground as possible.
Do not lie flat on the ground. Instead, place yourself in a ball-like position with your head tucked as much as possible and your hands over your ears.
Stay away from ponds, lakes, and other bodies of water.
Stay away from barbed wire or metal fences.
Avoid concrete structures, walls, and floors.
Avoid plumbing and electrical equipment of all types. Lightning can travel through copper plumbing and electrical systems.
If no shelter can be found, stay in your vehicle until the storm has passed.
Keeping Your Workforce Safe with Mass Notifications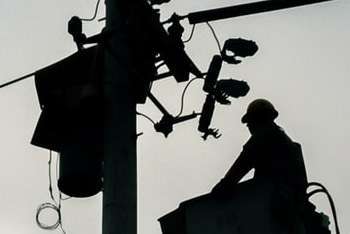 Regroup has provided mass notification systems to hundreds of organizations globally. Along with routine business communications, Regroup is known and trusted for emergency alerting and is widely used in the case of severe weather conditions.
As a NOAA Weather-Ready Nation Ambassador, we recognize the importance of readiness, responsiveness and overall resilience in the event of extreme weather. As such, Regroup has produced and published numerous guides, webinars and articles to help educate others and bolster their defenses when severe weather conditions threaten.
Automated Weather Alerts
As part of the Regroup platform, we are able to deliver automated weather alerts from the Integrated Public Alert and Warning System (IPAWS) and NWS/NOAA. This is essential alerting technology that can trigger advanced warnings as well as storm updates and other critical alerts to your workforce. Delivered to mobile devices, via text/SMS, and to email, these automated alerts leverage federal emergency systems to reduce time and error in getting critical messages to your people.
Person Down and Distress Calls
Regroup's free mobile app enables two-way communication between your outdoor workers and your organization's administrator or their team leader. This is an indispensable tool for managing emergencies in the field. Should a worker be in danger, they can communicate with you after they've contacted 911 or other emergency aid. By doing so, you can keep in constant contact and advise of procedures to be taken until assistance arrives.
When not in imminent danger, employees can use Regroup's two-way communication to give status updates, report on property damage, or request backup crews.
Geo-targeting For Situational Awareness
Geofencing technology can greatly improve the safety of your outdoor and traveling workers. With Regroup, you can map out a specific area where severe weather may be approaching and alert those within that fence to evacuate the area or take cover. Further, this will alert those in your network when they approach the area that conditions are unsafe.
This proactive approach will go far to ensure the safety of your traveling employees by warning them ahead of time not to enter a specific area. You can also use this feature to send an all-clear notification for those who may be working nearby.
Conclusion
Severe weather conditions, thunderstorms and lightning are all situations that demand attention and caution. When your team is dispersed, working outdoors, or traveling, it's vital that you have a strong communication scheme in place to alert them of danger and guide them to safety.
Following basic lightning safety measures is an excellent start, and using a platform like Regroup to keep everyone on your team safe and informed can make their work less hazardous.
Your Next Steps
Regroup offers a Summer Weather Safety Guide to help you plan and respond during severe weather conditions. This quick read will give you tips for keeping employees safe as well as mitigating damage caused by hurricanes, floods, tornadoes and other natural disasters. Download it here: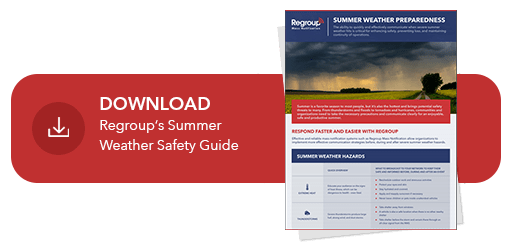 Ready to see more? You can schedule a no-obligation demo of Regroup's powerful notification system
here
.