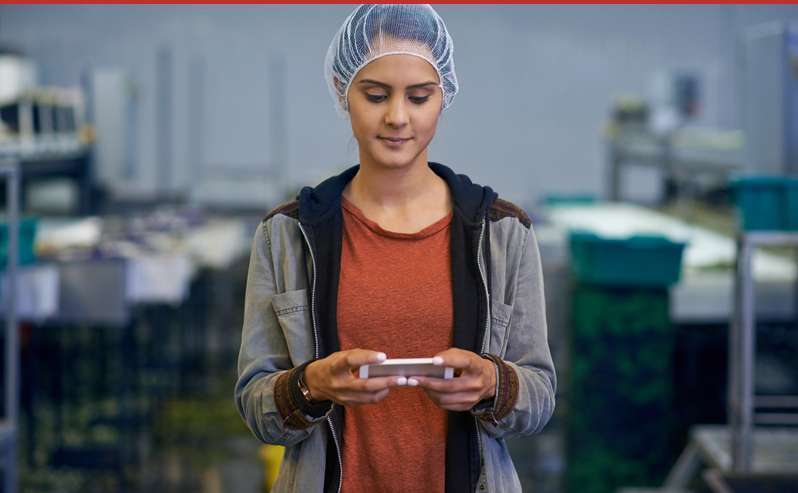 Mass Notifications for Food and Beverage Manufacturing Communication Challenges
Food and beverage manufacturing plants must take safety seriously. From preventive controls to food safety and from line operations to employee health, food manufacturing professionals must have detailed plans of action for limiting risks and protecting workers in every aspect of production.
For plant safety plans to be effective, a strong methodology of communication is needed. And, while emails are good for most notifications, they do not always create the same sense of urgency as a mass alerting tool for critical notifications. As many plant workers spend the better part of their days away from their desks, email simply cannot be the only means of notifying production teams when conditions warrant it.
Additionally, in the current climate of the COVID-19 pandemic, logistics and supply chains have all suffered — creating backlogs in production and product delivery.
For food and beverage manufacturers, a crisis management plan, complemented by a smart communication protocol can help plants react quickly in the event of supply shortages, virus exposure, safety-critical events, and line issues.
Supply Chain Disruption and Slow-Downs
Coronavirus has underscored the fragility of food product supply chains and logistics. Delays in receiving raw materials because of smaller workforces or closures can be devastating to production scheduling and execution. With a mass notification tool like Regroup, plant managers and team leaders can notify plant workers, stakeholders, and purchasing agents when a planned delivery is in jeopardy. By doing so, temporary alternatives can be explored in a more timely fashion and production schedules modified before losses occur.
Regroup can also assist production managers to reach other facilities for backup on raw materials and additives that may be in their inventories. If production is halted or delayed, mass notifications to stakeholders can allow for timely action so that awaiting customers are aware of the situation.
Food Hazard Analysis and Response
Both federal and state laws prohibit adulterated food and beverage products. This requires the manufacturing process to incorporate a strict process that minimizes the risk of adulteration by identifying, evaluating, and preparing solutions to potential hazards. With OSHA and other agencies insisting on rigorous regulations to maintain safety in the workplace, additional channels of communication can be a vital addition.
Using a mass notification system can allow line and production managers to target specific employees for alerts, entire teams or geographically selected areas when a concern has been identified. The added ability to quickly message the right people can help mitigate risks.
Regroup can also assist in reporting when the risk of adulteration is identified. With a robust reporting system, Regroup keeps track of who received the notification and who responded. Coupled with real-time, two-way communications, managers and supervisors can get immediate feedback from employees working the production line.
Avoidance and Reporting of Workplace Accidents
In a busy environment like manufacturing, it's not unusual for accidents to happen. With facility-wide alerts, plant managers can reduce the dangers by notifying others of spills, equipment failures, and more.
For those on the job who may experience mishaps, Regroup can provide a faster response through its real-time, two-way communications. This allows employees to send for help when needed and stay in communication with supervisors until assistance has been given.
Emergency Conditions and Alerting
As with most manufacturing, food and beverage manufacturers are not immune to emergencies. Everything from severe weather to wildfires can impact the safety of the plant, its employees and its equipment. In order to ensure the safety of employees, plant operators need a fast and reliable means of alerting others when moments count.
Regroup's automatic NOAA/NWS alerts can take some of the guesswork out of notifying inbound employees of severe weather conditions. Additionally, when plant closures are unavoidable, sending alerts to the entire crew — or specific plants by area — can protect employees and help keep them safe and informed.
Regroup's mobile app can allow employees to send alerts if they encounter suspicious activity or other hazardous conditions — ensuring a faster response from plant security and management.
Planned Messaging for Manufacturing Safety and Compliance
Using Regroup's unlimited user-customizable templates allows department managers to keep the team in the loop with planned messaging. This is a smart complement to email notifications of training schedules, policy changes, regulation updates, and more. Even for routine communications like shift management and shipment notices, mass communication can provide a simple and fast way to inform employees.
Planned messaging can also be used to notify teams of physical procedures for safety during the pandemic. Temperature checks, cleaning schedules and disinfection efforts can all be easily managed and communicated with mass notifications to the entire plant network.
Notifications can also be sent throughout the network when training schedules have changed, keeping personnel informed at all times.
Incorporating a mass notification system into the food and beverage manufacturing environment can help plants stay safer, mitigate risks, stay in compliance with food safety laws and keep the entire plant informed. Using Regroup's mass notification platform is the fastest and most reliable way to reach the people you need to reach when time is of the essence.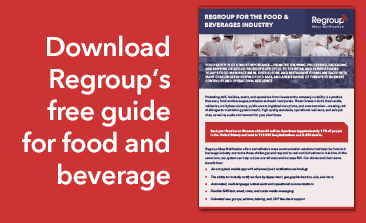 Your Next Steps
Regroup has published a guide to communications for food and beverage. This quick read provides insights to routine and critical alerting when manufacturing, processing and delivering food products.
Download our free guide to see how a mass notification system can help you maintain food safety, ensure product quality and keep your entire workforce safe and informed.
Ready to see more? You can schedule a no-obligation demo of Regroup's powerful notification system
here
.