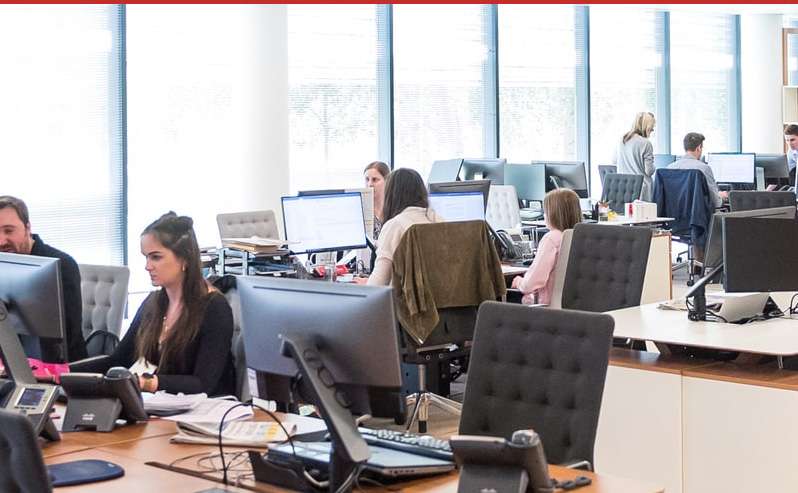 How to Promote a Healthy Work Environment Through Employee Wellness Programs
Employee wellness programs are not a new concept. For years, smart employers have offered workplace wellness programs as a method of reducing healthcare costs and improving attendance and productivity. And, since an estimated 600 million productive hours are lost each year to sick time, it makes sense for employers to take a more proactive approach to the wellness of their teams.
As we've seen throughout the global pandemic of COVID-19, more companies are opting for remote workforces. While this certainly works to reduce the risk of spreading the coronavirus, it may leave some employees feeling isolated and less active. Ensuring a healthy workforce takes into account those who work on-site and those who work remotely — providing the entire organization the tools they need to stay healthy and happy.
Employee wellness programs also have the added incentive of helping reduce company-supported healthcare costs. The Centers for Disease Control and Prevention (CDC) explains that a workplace health program can help move employees into "low-risk" categories, directly impacting company-paid insurance premiums and employee co-pays.
Getting started with an employee wellness program requires buy-in from leadership and employees. Here are the top tips from Regroup to help ensure your success.
Develop a Wellness Mission Statement
It's important to concisely define what your organization hopes to achieve with its employee wellness program. These goals should be clear, actionable and measurable, and they will need to be communicated throughout your organization. Good communication will help your employees understand the objectives of your program and your contributions.
Communicate with Purpose
Regularly scheduled newsletters and other planned communications are effective ways to keep your employees thinking about good health and work-life balance. Used as learning opportunities, company-wide tips for improving health (or updates on wellness policies) will help even remote employees feel engaged and part of the process.
If you're already using Regroup Mass Notification for planned messaging, our QuickMessage Templates can be customized for this type of communication and used whenever you need to reach out. This keeps the process simple, fast and efficient.
Health Fairs
Employee health fairs have become popular and effective tools for engaging your workforce. Health-focused organizations like the American Heart Association and American Lung Association can be included as presenters, and your local health department can advise on publications and other support materials to offer your team.
During these fairs, you can host learning tracks on healthy cooking, first aid, emergency preparedness, hydration and a wide variety of health-related topics.
Team members organizing these events can also rely on Regroup for sending event and vendor updates and other announcements. This keeps your people in the loop and your planning more orderly and efficient.
Ditch the Vending Machine
If your office or facility has an employee break room, chances are you also have a beverage machine and a snack machine. While these are convenient, they don't always promote healthy habits in the workplace. Many processed snacks have significant amounts of sodium (a known contributor to hypertension) while non-diet sodas contain high amounts of sugar.
Consider replacing your vending machine with fresh alternatives like fruits and low-sodium snacks. If your current service doesn't provide healthier options, it makes sense to find one who does. You might also request your vendor include healthier beverage options such as juices, sparkling waters and other drinks that are lower in sugar.
Have an Honest Conversation About Stress
Even in ideal conditions, employees can be affected by stress. Those who work remotely may sometimes feel that they are always "on the clock" or disconnected from their teams. And, employees with underlying health conditions can experience worsening symptoms as a result of stress.
As employers and team leaders, it's important for us to open the conversation about stress in the workplace, and to take steps to minimize it for all employees. This may include allowing additional time for employees to get up and move about, having learning sessions on reducing stress, planned employee outings or simply reaching out to an employee who might be struggling. Keeping the lines of communication open is an important first step in helping employees get a handle on stress factors.
Ask for Feedback
Your team will engage more — and attain a higher level of wellbeing — if you encourage their participation in your wellness program. That means asking for and paying attention to their input and feedback.
Using Regroup's two-way messaging system is one way to make the process simple and more confidential. When employees respond to inquiries, Regroup automatically creates a digital paper trail so you know who replied and what their response was. This can also help you keep department managers informed of improvements they can make to benefit their teams.
Your Next Steps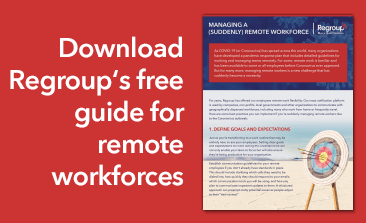 Regroup cares about its employees and we know you do, too. Now that more companies have embraced remote workforces, in response to the coronavirus pandemic, employers new to this format may feel a bit lost. That's why we published our guide to Managing a Suddenly Remote Workforce.
This quick read will provide you with tips for making the transition simpler and more successful. Click here to download it now.
Ready to see more? You can schedule a no-obligation demo of Regroup's powerful notification system
here
.