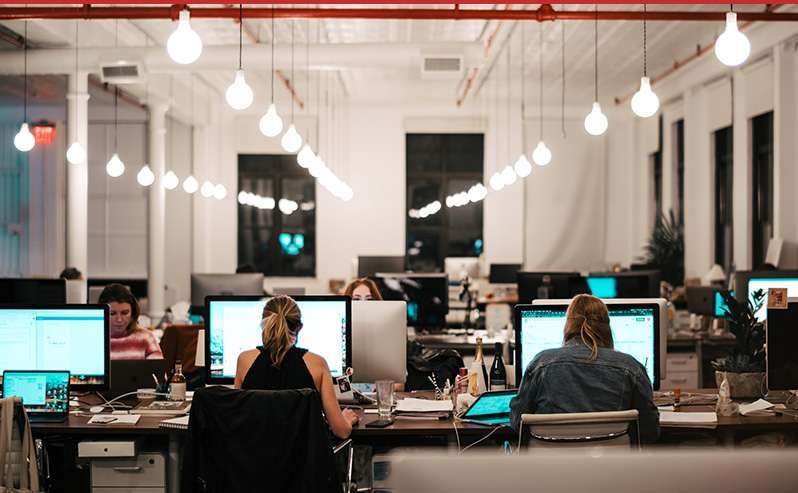 Desktop Alerts for Offices, Remote Workers and Beyond
Desktop alerts and push notifications to the desktop have been used by businesses for years. They serve to immediately grab the attention of the end-user and can be implemented on-site and, now, remotely. With more organizations embracing the concept of the distributed workforce, secure and reliable desktop alerts make more sense than ever before.
There are a number of scenarios where desktop notifications can help save lives, mitigate risks, keep team members informed and improve an organization's overall communication plan. As a complement to a mass notification system, desktop alerts can provide a simple — yet highly effective — means to reach people quickly and reliably.
For anyone who has used an email client, a desktop notification (or popup notification) is rather familiar. Now that similar alerts are popular additions to news and weather websites, productivity apps, and communication software, their benefits are widely known.
In years past, these popup alerts had little interactivity. A button selection to dismiss the notification was virtually all the functionality offered. But, with advances in cloud-based technology, push notifications and communications solutions, desktop alerts have become more functional, practical, and useful — to end-users of every variety.
Some desktop alerts are native to their operating systems. Long-time Microsoft Windows* users have become accustomed to these notifications when updates, security patches, and other downloads are made available to them. Similarly, mobile device operating systems have card-based and other visual notifications baked in, allowing users to see events without even opening the associated mobile app.
And, this evolution is a good one. Since these alerts help keep us in the loop, on time, or apprised of news developments that are of interest to us, we've grown to take advantage of them in both work and personal life.
But, for large or distributed organizations, the cloud-based desktop alert delivers much more than simply messaging. It can be an invaluable communication tool that helps companies maintain good operational practices, safer work environments, and a more effective communication plan. Used in combination with more traditional means of communication (email, memos, etc.), desktop notifications can help organizations communicate important information when time is of the essence.
Why Desktop Alerts Work so Well
Desktop alerts are attention-grabbers. And, with a platform like Regroup's, you can customize alerts with regards to size, colors and font treatments. You can also include rich media for a more impactful message delivery that cannot be ignored.
Desktop notification technology is cloud-based and requires no new equipment or hardware for deployment. Supported on both Windows and Mac operating systems, desktop alerts are convenient and familiar for virtually any level of end-user.
Used with a platform like Regroup, administrators can send critical and routine notifications with just a few keystrokes. These alerts are then distributed to selected recipients, a specified department or group, or to the entire organization.
Desktop alerts are easy to install, configure and deploy — to your entire organization. End-users need virtually no training and sending notifications is fast and effective. This makes desktop alerts a more attractive option than relying on just email alone.
And, using pre-configured templates, you can send desktop alerts in a variety of formats such as full-screen, direct on-screen and popups.
Desktop Alerts for Emergencies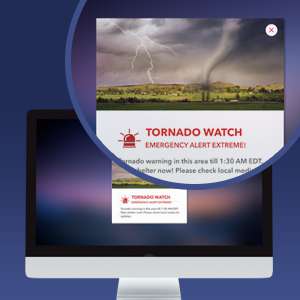 All too often, we hear of catastrophic events in the workplace. These may stem from active shooter situations, domestic disputes that find their way into the work environment or accidents that result in damage to property and injury to employees. Even the threat of severe weather conditions can place a working environment into upheaval. And, during these types of situations, it's critical that on-site employees be immediately alerted to potential dangers.
Using the scenario of a robbery threat at a local bank, an emergency broadcast tool like Regroup can be used to alert the entire staff of the danger. The same technology can be used to enhance branch security by notifying key players in the event of a suspicious or disruptive individual.
Other emergency alerts may include hazardous weather conditions. When severe weather approaches, organizations can use desktop alerts to notify specific locations — or their entire network — as to the potential dangers. Further, desktop notifications can be utilized to send instructions to field workers, updates to off-site employees and reports back to administrators if outages and other risk factors should arise.
Used for emergency situations, desktop alerting can save lives, help reduce property losses and inform teams as to the next steps. This is a powerful way to keep networks informed and alert and to roll out contingency plans, when appropriate.
With increasing concern over cybersecurity and network attacks, desktop alerts can be an effective first warning tool for IT teams (on-site or in multiple locations) to shore up additional security and immediate response.
Desktop Notifications for the Remote Worker
Since the outbreak of COVID-19, many companies have chosen to send their employees home to work. This new normal, in the face of an ongoing global pandemic, has made pier-to-pier and company-wide communication challenging.
In addition, coronavirus has created an ongoing need for companies to alert employees of potential facility exposures, precautionary measures, and follow-up procedures. Keeping the spread of the virus to a minimum demands it.
A platform like Regroup's allows administrators unlimited notification templates for use in regular mass notification or for desktop alerts. This makes it easier for planned messaging, health reminders and updates of possible site exposures.
Team leaders can also harness desktop alerts to provide vaccination availability updates, reminders for employees quarantining and on-site and off-site policy changes. Regroup also allows administrators to see — at a glance — recipients who haven't acknowledged or responded to the alert. For some institutions, this helps create a digital paper trail that aids in accountability.
Your on-site facility may go through varying levels of precaution. Should the level change — and additional physical precautions be required of on-site employees — a desktop alert is a quick and easy way to gain their attention. Used in conjunction with geo-targeting, desktop notifications can be sent to specific facilities or a selected geographic area.
When employees are temporarily sent home to work, desktop alerts can help keep them in the loop when facilities are reopened.
Desktop Engagement for Training and Documentation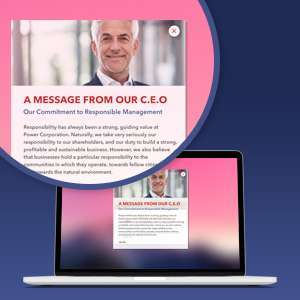 Training is one of the most important features we can offer our employees and, many times, one of the most challenging. Additionally, documentation of procedures and processes is critical to many companies. Having a focused approach to communicating is, therefore, valuable to both employees and managers.
Take the scenario of ISO documentation and certification. Most manufacturers know the importance of the processes in obtaining ISO certification and how easily those processes can be broken if communications falter.
For the entire chain of documentation contributors and reviewers, desktop notifications make an outstanding and reliable complement to team-wide emails and announcements. With them, you can create stronger accountability in documentation teams, request feedback and send notices of new controlled document versions or procedures.
Not only does this improve overall communication, it reinforces good communication habits by establishing a sense of urgency and answerability among team members.
Desktop engagement is also an important tool to notify employees of policy changes, procedure updates or department-specific changes. Administrators can request confirmation of messages or feedback from specific individuals.
You can also send time-sensitive reminders of important training sessions or request feedback on sessions already attended by your team. By using desktop notifications (instead of email), you can keep communications brief and to the point.
Simple Notifications for Facility Management
If your entire workforce is on-site, desktop alerts make the perfect complement to your day-to-day operations. Even for multi-location facilities, desktop notifications are an excellent tool for operational continuity.
With many manufacturers, closing down because of coronavirus threats was not an option. In cases like these, plant and production managers can use desktop notifications to inform on-site personnel of testing requirements (such as temperature checks) and physical procedures (such as face mask use and disinfection) that may be required at one or more locations.
Administrators can use desktop alerts to notify employees of potential exposures in designated areas, or simply remind them of the locations of hand wash sinks and other materials for maintaining sanity conditions.
Desktop notifications can also be used to alert specific groups or departments of raw goods arrivals, line inspection requests and quality assurance activities. In sometimes noisy, bustling environments — as with manufacturing plants — desktop alerts can often be more readily noticed over texts and other notifications.
Ideal for checking in with production personnel, shipping centers and quality control teams, desktop alerts can help keep production running smoothly under normal circumstances. Used for alerting when severe weather or other critical conditions force plant closures, desktop alerts can help manufacturers keep their people safe and informed.
Your Next Steps
With desktop alerts from Regroup, you have a powerful communication tool that is easy to use and effective. For routine and critical alerts, nothing is more practical and powerful than immediate notifications delivered directly to the desktop.
We've prepared a free guide that explains the benefits of desktop alerts for the workforce and how you can implement them in your organization. Download it here.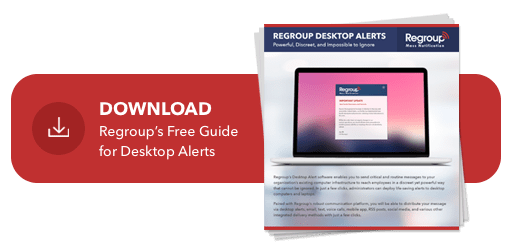 Ready to see more? You can schedule a no-obligation demo of Regroup's powerful notification system
here
.