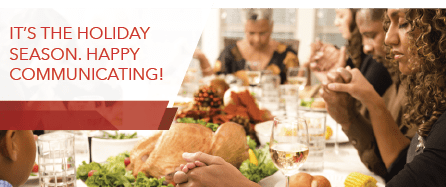 Beat the Stress of the Holiday Season with Effortless Communication Tools
'Tis the season! The holidays are quickly approaching and, for many of us, they signify a time to be with family and friends, enjoying good food — I mean great food — or time for vacationing and travel. During Thanksgiving alone, an estimated 48.7 million people were traveling 50 miles or more, with approximately 25.3 million of them flying.
Regardless of how you spend the holidays, they're certainly a charged time. They not only signify chocolate, joyful music and beautiful lights, but also typically some stressful hustle and bustle through crowds, traffic and unexpected winter weather. In the corporate world, holidays represent time to strategize and prepare for business continuity and employee vacations. Higher education sees the end of the semester, campus closures and preparing for a seamless transition into the next year.
Is your organization prepared for the holidays?
Effective communication during the holiday season is critical for enhancing public safety, preventing financial loss and maintaining continuity of operations. The holidays can be less stressful with effective mass communication technology, and by learning how to unify mass communications and automate storm alerts, you'll be able to rest easy and enjoy your holiday season.
Another simple holiday idea for your organization is to build community during the holidays by utilizing the power of mass communication technology to spread some holiday cheer — maybe a simple Happy Holidays or some heartwarming quotes like the ones we wanted to share with you.
"Never doubt that a small group of thoughtful, committed citizens can change the world. Indeed, it is the only thing that ever has" — Margaret Mead
"The best and most beautiful things in the world cannot be seen or even touched. They must be felt with the heart." — Helen Keller