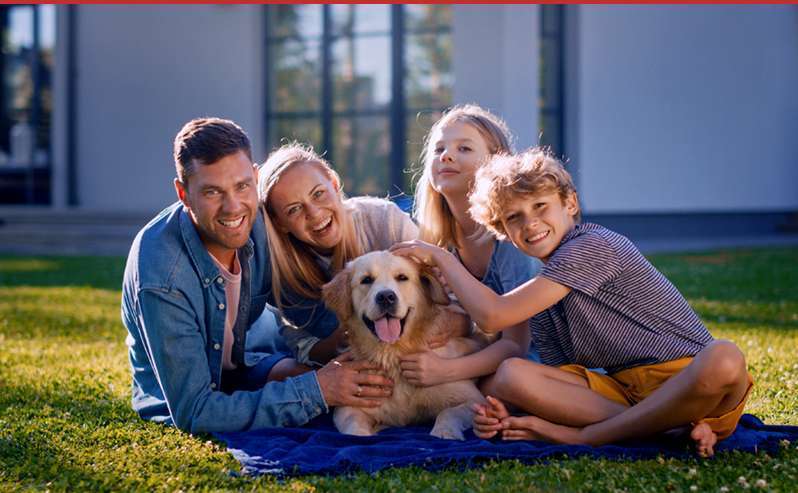 5 Top Tips for Keeping Pets Safe This Summer
In the United States, June is Summer Safety Month as well as Pet Preparedness Month. In many regions of North America, the summer months bring with them hurricanes, lightning strikes, tornadoes, wildfires and extreme heat. With these potential hazards ever-looming, it's always wise to have emergency plans in place for ourselves, families, and family pets.
The US government's Ready Campaign provides numerous articles of guidance for planning and preparing for these potential critical events. We at Regroup also take these matters seriously when summer months roll around. That's why we've published an entire library of guides to help you cope with extreme weather, wildfires, and even earthquakes. And, over the years, we've seen that the key to successfully managing safety is having a plan in place before the unexpected occurs.
This holds true for the care and safety of our pets. Without a preparedness plan that includes our family pets, we are not truly protecting the entire family. Most of us understand the dangers of leaving pets in hot cars, the risk of exposing pets to noisy events like fireworks and the importance of keeping our furry friends hydrated during the hottest months. But, having a plan of action that includes your pet — in the event of an emergency — will ensure the best possible outcome for you and your best friend.
Here are our top five tips for keeping your pet safe in the event of an emergency:
Bring Pets Indoors
Many of us have pets that come and go as they please. And, while such arrangements give your pet freedom, they can present issues when severe weather or other events happen. In the instance of fireworks, many household pets experience panic and flee without warning.
When it's known ahead of time that a noisy event will occur in your area, it's smart to lock the pet door and keep your dog or cat inside until everything is calm and quiet.
During extreme weather conditions, it's easy for an outdoor pet to become disoriented and, eventually, lost. Some may seek shelter during a storm or try to place themselves as far away as possible. Again, the simplest remedy is to keep your family pet inside until the danger passes.
For larger animals and livestock, it's important to ensure a safe shelter with sufficient quantities of food and water to last a day or more.
Heed Evacuation or Shelter in Place Alerts
Although it may be very tempting to ignore county or parish evacuation orders, we must heed these alerts and plan to follow them.
During severe weather — such as hurricanes — many dangerous conditions can occur in relatively short periods; power lines falling, flash floods.  High winds and lightning strikes all present numerous dangers. As important as it is to have an evacuation plan in place, it's just as vital to have one for our pets.
This includes knowing, ahead of time, what public shelters accept pets and how to get to them safely. Your county's or parish's emergency management office can provide you with the details ahead of storm season. It's also a good idea to keep their numbers handy should you become separated from your pet.
Have a Go-Bag for Your Pet
Should you need to evacuate your home, you should have a family go-bag that includes first aid, any required medications, hygiene supplies, drinking water and high-protein snacks. The same holds true for your family pet.
Along with a safe pet carrier for travel, you should also pack any medications your pet needs, fresh quantities of food and water, bowls, a leash, sanitation supplies and comfort items such as a favorite cushion or toy. Your pet should also be collared or harnessed with a legible ID tag. It's also a good idea to have with you (or on your mobile device) a photo of you and your pet together should you become separated.
Make Sure Your Pet is Chipped
A permanent microchip is the most effective way to protect your pet in the event of a separation. The process can be carried out by your local veterinarian, animal shelter, or licensed pet recovery service.
Chips are typically the size of a grain of rice and are implanted under the skin. Using RFID technology, microchips can be used for household pets and many larger animals. Should your pet become lost and subsequently surrendered to an animal shelter, he or she can be easily identified and returned safely to you.
Stay Informed
Regroup is in the business of keeping people safe and informed and it's an obligation we take seriously during both crisis and everyday situations. We believe in the value of keeping informed when severe weather or other conditions threaten personal safety. As a result, we always recommend keeping an eye on the news, staying in close contact with friends and family and heeding warnings as they are made.
Your pet depends on you and — no matter what emergency you may face together — having a plan of action and staying up-to-date on developments will ensure the best possible outcome for you and your best friend.
We hope these tips will serve as useful reminders of the steps you can take to protect your pets in the event of an emergency.
Your Next Steps
With summer comes hurricane season for many parts of the United States. We've prepared a guide to hurricane preparedness that gives you tips for weathering the storm and staying safe before, during and after severe weather. Download it here.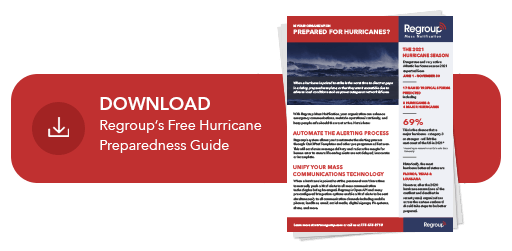 Ready to see more? You can schedule a no-obligation demo of Regroup's powerful notification system
here
.