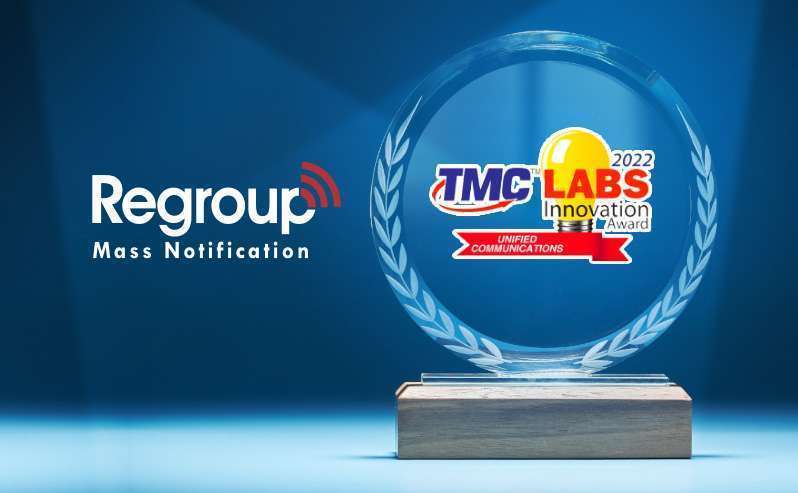 Regroup Mass Notification Awarded 2022 Unified Communications TMC Labs Innovation Award
Multi-Channel Mass Communication Platform Recognized for Exceptional Innovation
Dallas, TEXAS (December 12, 2022) — Regroup Mass Notification (www.regroup.com) announced today that TMC, a global, integrated media company, and its TMC Labs product review division, named Regroup's mass notification platform as a 2022 Unified Communications TMC Labs Innovation Award winner.
Regroup is a cloud-based mass notification system that delivers quickly and easily to text/SMS, email, voicemail, push notifications, desktop alerts, its mobile app, corporate intranets and a host of other channels through its open API. 
Regroup offers a variety of unique integrations including National Weather Service/NOAA/IPAWS for automated severe weather alerts, Microsoft Teams and Active Directory, a number of human resource tools and educational integrations for K-12 and higher education.
"Throughout the years, Regroup's platform has continued to evolve to meet the changing needs of our clients," said Regroup COO, Chris Utah. "Our mission is to deliver an innovative and scalable solution that is reliable during emergencies and useful every day."
The TMC Labs Innovation Award is selected by the distinguished engineers at TMC Labs and honors products that have demonstrated innovation, unique features, and noteworthy developments toward improving communications technology.
"Regroup has displayed its commitment to quality and innovation in the development of the unified communications industry," said Rich Tehrani, CEO, TMC. "I look forward to more innovation from Regroup and their continued effort toward improving the future of the UC industry."
The 2022 TMC Labs Innovation Award winners will be featured on INTERNET TELEPHONY online.
About Regroup Mass Notification
Since 2006, Regroup Mass Notification has provided a robust and reliable mass alert platform trusted by healthcare, enterprise, higher education and more. Regroup empowers more effective communication, keeping people safe and informed at all times. The company's award-winning, cloud-based mass communication platform is what clients around the globe rely on to send both emergency and day-to-day communications to millions of people.
With simplified messaging to mobile devices, landlines, social media, email, websites and more, Regroup helps organizations keep people safe during critical events and helps strengthen operational resilience every day. Learn more about Regroup at www.regroup.com or contact the company at inquiries@regroup.com.
About TMC
Through education, industry news, live events and social influence, global buyers rely on TMC's content-driven marketplaces to make purchase decisions and navigate markets. As a result, leading technology vendors turn to TMC for unparalleled branding, thought leadership and lead generation opportunities. Our in-person and online events deliver unmatched visibility and sales prospects for all percipients. Through our custom lead generation programs, we provide clients with an ongoing stream of leads that turn into sales opportunities and build databases. Additionally, we bolster brand reputations with the millions of impressions from display advertising on our news sites and newsletters. Making TMC a 360 degree marketing solution, we offer comprehensive event and road show management services and custom content creation with expertly ghost-crafted blogs, press releases, articles and marketing collateral to help with SEO, branding, and overall marketing efforts. For more information about TMC and to learn how we can help you reach your marketing goals, please visit www.tmcnet.com and follow us on Facebook, LinkedIn and Twitter, @tmcnet.