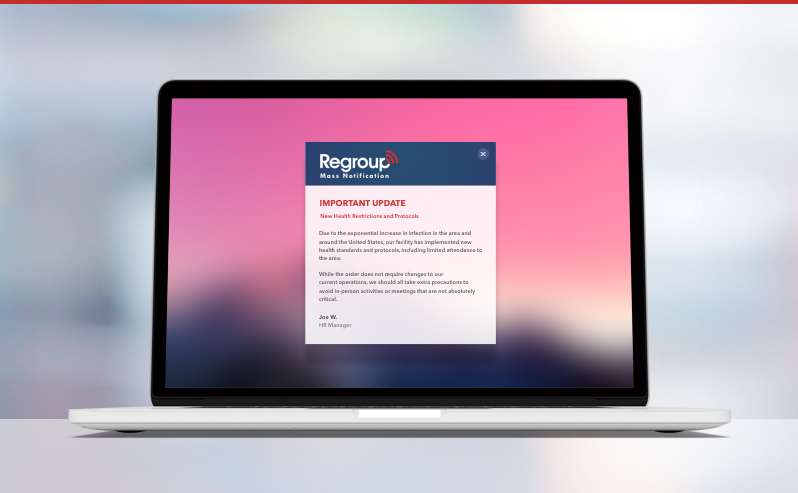 The Top 3 Benefits of Using Desktop Alerts within Your Organization
For virtually any type of business, communication can often be a challenge. Whether your workforce is on-site or working remotely, communicating effectively is an important part of maintaining efficiency and operational resilience. Emergencies, business-critical developments and other matters of importance need to be imparted quickly and clearly — regardless of your business model.
Enter desktop alert technology. This easy-to-implement solution is fast becoming popular with small, medium and large businesses for its effectiveness and affordability. As part of a mass notification system, desktop notification services can be incorporated into your current communications plan without the need for additional equipment. Desktop alerts can be used for weather alerts, emergency notifications, planned messaging and even panic alerts from your team members.
While there are many benefits to implementing desktop alerts for your company, we took a look at the top 3 that can greatly improve your company-wide communications.
You Won't be Ignored
Desktop alerts are attention grabbers that cannot be missed. Used to send urgent messages, routine communications or emergency notifications, desktop alerts feature a pop-up that appears on the user's monitor, over other applications and commands attention. This highly-visible vehicle allows administrators to deliver custom notifications to selected groups or teams or to the entire network. This ensures that the right people get the message each and every time.
Additionally, rich media (such as images, audio or video) can be incorporated to enhance your message. This is particularly useful when sharing communications to team members from their supervisors or managers as it creates a more memorable experience.
Desktop alert notifications can also be sent with a request for acknowledgement from recipients. This ensures your message is read and can help you keep track of those who have not acknowledged your notification.
Affordable and Simple
Using a cloud-based mass notification system like Regroup's means you can easily implement desktop alerts without the need for additional equipment. Your own network infrastructure and a quick installation routine are all that are needed to get started.
Desktop alerts are compatible with Windows and iOS operating systems, ensuring all recipients get your message.
What's more, administrators can easily create and customize alert templates that are eye-catching, easy to read and branded with the company's corporate colors or logos. Creating templates is as easy as using any popular word processing software and there is no limit on the number of templates you can use. This makes sending notifications even quicker and easier.
The Smartest Solution for Emergencies
When moments count, you need a mass notification system you can count on. Coupling desktop alerts with Regroup's platform gives you unparalleled reach when emergencies strike. Used for severe weather alerts, active shooter alerts, critical outage notifications or suspicious activity on site, desktop alerts can help keep your people safe and informed.
Regroup's desktop alert technology also provides a panic button for your team members. This can help secure reception areas and allow remote employees the ability to quickly communicate critical situations. Used with two-way communication and polling, employees are empowered to send an all-clear when the crisis has passed.
This can greatly improve employee safety and promote awareness in the workplace — whether employees are on site or remote.
Your Next Steps

With desktop alerts from Regroup, you have a powerful communication tool that is easy to use and effective. For routine and critical alerts, nothing is more practical and powerful than immediate notifications delivered directly to the desktop.
We've prepared a free guide that explains the benefits of desktop alerts for the workforce and how you can implement them in your organization. Download it here.
Ready to see more? You can schedule a no-obligation demo of Regroup's powerful notification system
here
.