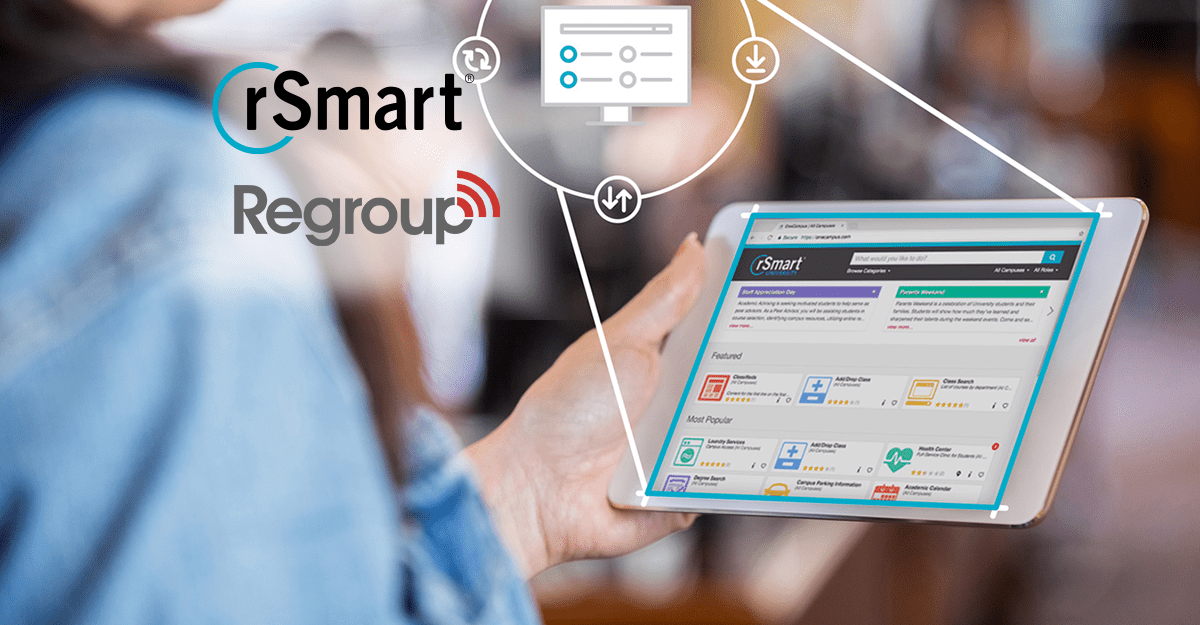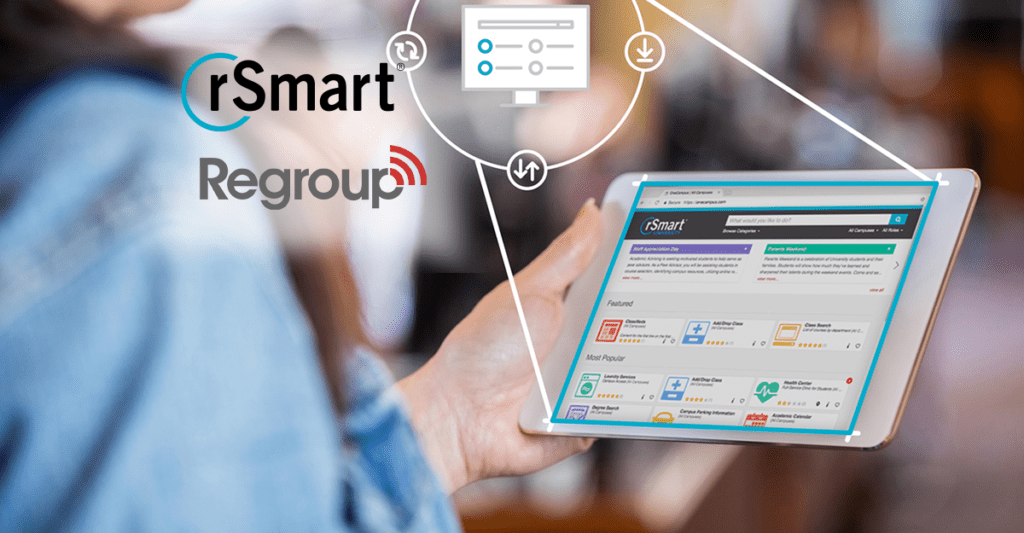 Regroup + rSmart = A Powerful New Partnership for Campuses
With technology playing such a crucial role in education, the need for streamlined campus communication services has never been greater. This is why our new partnership with rSmart, the leader in campus modernization technology, is so exciting.
Who is rSmart? They're the creators of the next-gen, cloud-based campus portal, OneCampus. This technology platform offers students, staff, and faculty immediate access to hundreds of on-campus services including email, grades, transcripts, athletics, and more — in one simple location.
With Regroup and rSmart combining forces, our higher education clients will have access to both Regroup's streamlined, state-of-the-art communications platform; and a more organized and accessible web-based service portal through rSmart's OneCampus.
How it Works
Whenever a mutual client of both Regroup and rSmart sends a message to its audience through their Regroup account, rSmart can automatically broadcast the message through the OneCampus app and web portal.
This means campus administrators can convey important, time-sensitive information to a large audience faster than ever. Other benefits from the partnership include:
Google-like service discovery

Mobile first access to campus services

Higher readership for alerts & announcements

Distributed publishing in multiple locations

Routine and emergency alerting is faster

Multi-channel and multi-device messaging with only two-taps
By combining our expertise and advanced technological resources, we are enabling schools to leverage award-winning technology to facilitate daily operations, enhance student-teacher relations, and access the full power of mobile notifications from a single, centralized system.
Technology Helping to Improve Higher Education
Now, more than ever, campuses of all types and sizes need cost-effective tools that streamline communications and help community members better understand what's happening on campus. With campus safety also being top of mind for faculty, students, staff, and parents around the country, administrators can rest assured they are investing in an invaluable tool that quickly enables both routine and emergency notifications.
About Regroup:
Regroup Mass Notification empowers better mass communication that keeps people safe and informed at all times. The company's award-winning, cloud-based mass notification platform is what clients across North America and around the globe rely on to send both emergency and day-to-day communications to millions of people. Learn more about how Regroup can help organizations quickly and efficiently share critical information — both life-threatening and day-to-day.