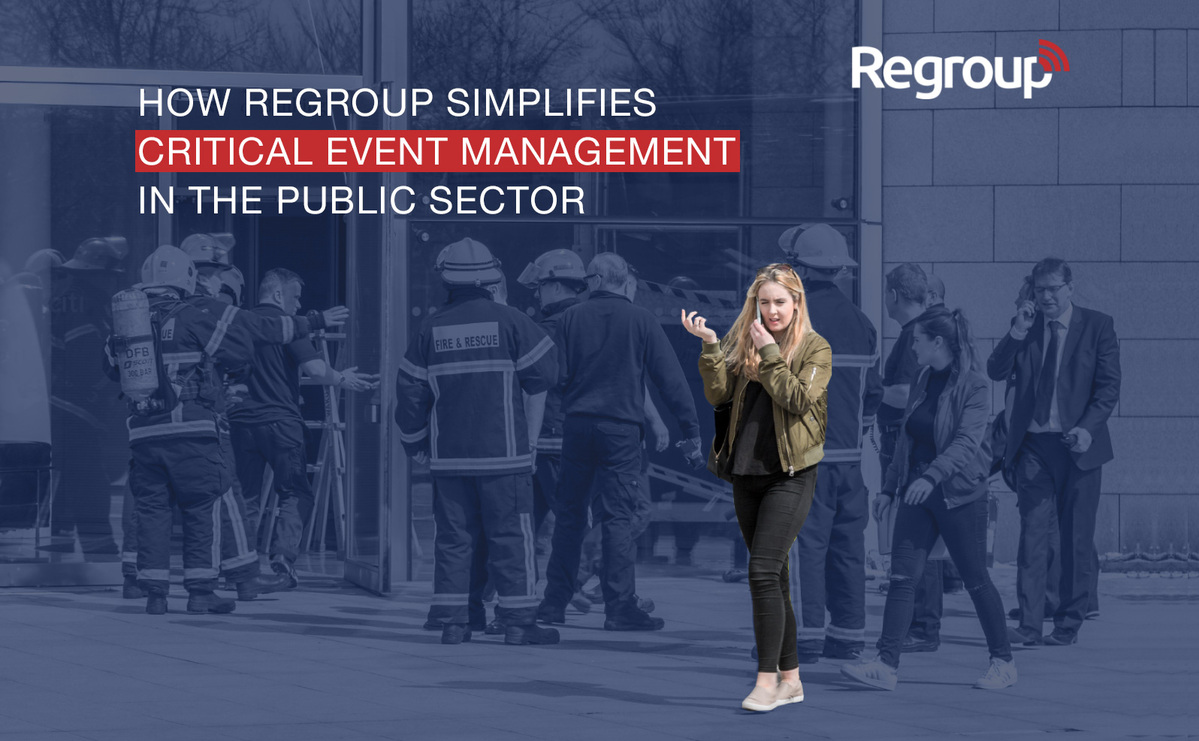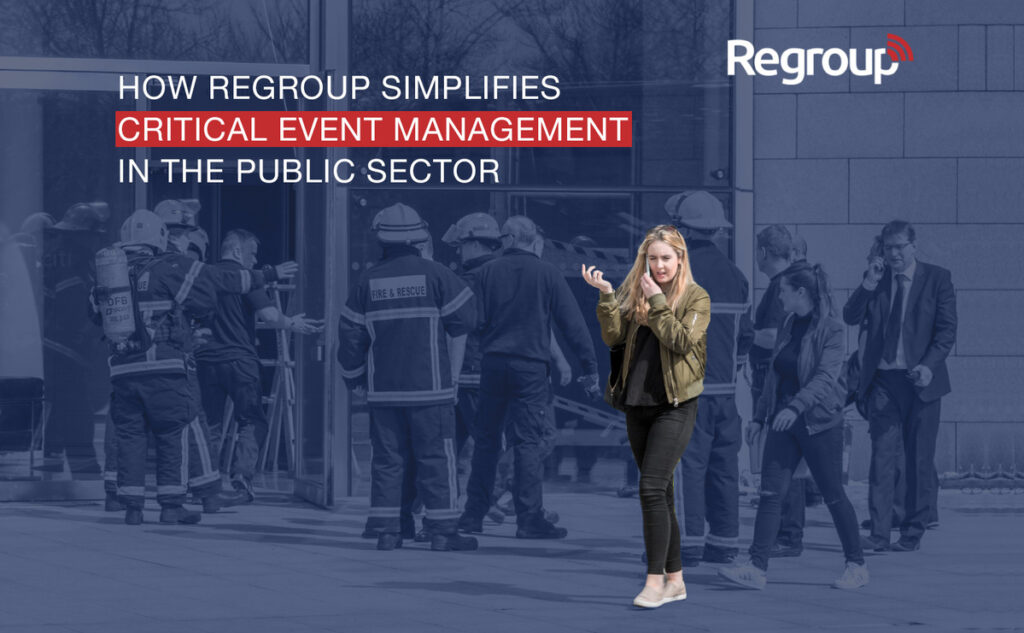 How Regroup Simplifies Critical Event Management in the Public Sector
Discover How Regroup Makes Managing Public Sector Crises Easier
Managing critical events swiftly and effectively is a vital component for organizations. Whether facing natural disasters, security threats, or operational disruptions, these events significantly impact the safety and well-being of individuals and communities. Regroup offers robust solutions for critical event management, empowering organizations to act quickly, communicate effectively, and mitigate risks.
Regroup's critical event management software
Regroup's critical event management software is your go-to platform for navigating any crisis situation effectively. Whether you're dealing with natural disasters or cybersecurity threats, our software equips you with the necessary tools for efficient incident management. Key features like real-time alerts, asset management, and emergency preparedness planning ensure that your organization is always a step ahead in crisis situations.
How Regroup Simplifies the Management Process
Managing a crisis is never easy, but Regroup's solutions aim to make it as straightforward as possible. Our platform offers:
Automated alerts

to keep your team informed

A centralized dashboard

for real-time monitoring

Resource allocation features

to optimize your response

Data analytics

to review and improve your crisis management strategies
These features not only simplify the management process but also empower your organization to act swiftly and decisively when it matters most.
Real-world examples of organizations benefiting from Regroup's Critical Event Management Solutions
Adams County, Colorado: Overcoming Weather and Safety Challenges
Challenges

: Adams County faces a myriad of incidents, from daily road closures due to unpredictable weather to emergency situations like active shooter threats.

How Regroup Helps

: Our platform is a resourceful tool for organizations, empowering employees with a powerful yet user-friendly, cost-efficient, and scalable solution for both emergency notifications and day-to-day communication.

Action Taken

: "Regroup is user-friendly, straightforward, and is a common-sense platform," says Michael Bean, Emergency Management Coordinator for Adams County, Colorado.
Town of Belhaven, North Carolina: Hurricane Readiness and Recovery
Testimonial

: "Thanks to Regroup, the Town of Belhaven is more prepared than ever for emergency incidents," says Lynn Davis, Town Manager.

Resources and Process

: Our mass notification system powers their hurricane readiness and communications, and also aids in day-to-day communication with residents.
San Francisco Fire Department's Neighborhood Emergency Response Team (NERT): Empowering Local Volunteers
Testimonial

: "We have used Regroup's text message function on several occasions to alert volunteers for deployment," says Erica Arteseros, Fire Captain.

Action and Resources

: NERT uses Regroup to keep their organization informed and to empower neighbors to assist first responders when it matters most.
San Francisco Fire Department's NERT: Leveraging Local Volunteers for Citywide Safety
Testimonial

: "The fact that a single fire department is able to leverage the power of thousands of local resident volunteers is inspiring," says Erica Arteseros, Fire Captain.

Process and Threats

: Our platform allows for unlimited admins at no extra cost, enabling individual neighborhood groups to customize their messaging to engage their volunteers.
Ready to streamline your critical event management? Learn More Here.
How Your Organization Can Benefit from Proactive Planning
Proactive planning can mean the difference between a well-handled situation and a full-blown crisis.
The Importance of Planning in Critical Events
When it comes to managing critical events, planning is the backbone that supports all other actions. It allows organizations to anticipate possible scenarios, allocate resources efficiently, and establish a clear chain of command. This level of preparedness ensures that when a critical event does occur, the response is swift, coordinated, and effective.
How Regroup Aids in Organizational Preparedness
Regroup goes beyond just providing a platform for emergency notifications. Our solutions are designed to assist in the planning phase, offering features like scenario templates, automated alerting systems, and real-time dashboards. These tools enable organizations to prepare for a variety of incidents, from natural disasters to cybersecurity threats.
Resources Available for Planning and Action
Regroup's platform is rich in resources that aid in both planning and action. From detailed analytics that help you understand past incidents to resource allocation features that optimize your response, Regroup ensures that you have all the tools you need for comprehensive planning.
Elevate your organization's proactive planning today. Get Started Now.
The Role of Information in Incident Management
In the high-stakes world of incident management, information isn't just power—it's a lifeline. Timely and accurate information can be the difference between a well-managed incident and a chaotic situation that spirals out of control.
How Timely Information Can Make or Break Crisis Management
The 2010 Deepwater Horizon oil spill serves as a case in point. The lack of timely information during the initial stages led to delays in containment efforts, exacerbating the environmental impact. In contrast, during the 2019 Notre-Dame Cathedral fire, real-time information allowed firefighters to save most of the structure and its invaluable artifacts.
Features of Regroup that Facilitate Information Flow
Regroup understands the critical role of information in incident management. Our platform offers real-time alerts, a centralized dashboard, and multi-channel communication options, ensuring that you're not just informed, but empowered to act swiftly.
Case Studies on Effective Information Management
Hurricane Katrina (2005)

: The lack of effective information flow led to delays in rescue operations and increased the human toll.




Read more inside the Special Report prepared by the Committee on Homeland Security and Governmental Affairs:

Hurricane Katrina: Nation Unprepared

.

Japan Earthquake and Tsunami (2011)

: Efficient information management enabled quicker evacuation and saved lives.




Read more about the

Sendai Dialogue

that brought together the World Bank, the Government of Japan and global policymakers, in efforts to "Advance a global consensus on disaster risk management."
Want to manage incidents more effectively? Discover How.
Empowering Employees: How Regroup's Resources Benefit People During Incidents
At Regroup we understand the role of well-trained employees perfectly well. This is why we offer comprehensive employee training as part of our critical event management solutions. Our platform is designed for intuitive use, ensuring that your team can operate it effectively without a steep learning curve.
5 Benefits of a Well-Informed and Well-Equipped Workforce:
Rapid Response

: A well-informed team can act quickly, reducing the impact of any crisis.

Efficient Resource Use

: When everyone knows their role, resources are used more efficiently.

Reduced Panic

: Clear, timely information can reduce unnecessary panic and confusion.

Accountability

: Easy tracking and reporting mean everyone is accountable, improving overall performance.

Business Continuity

: A prepared team can help ensure that business operations continue with minimal disruption.
Empower your team for any crisis today. Find Out More
Business Continuity: Ensuring Uninterrupted Operations for Organizations
The Concept of Business Continuity in Critical Event Management
When it comes to critical event management, emergency preparedness is just the tip of the iceberg. The real challenge lies in ensuring business continuity—maintaining the flow of your essential operations during and after a crisis. This involves a holistic approach that goes beyond merely reacting to emergencies.
The Role of Asset Management in Business Continuity
Effective asset management is crucial for business continuity. Knowing what resources you have, where they are, and how to allocate them efficiently can make a significant difference in how your organization weathers a crisis.
Regroup's platform offers comprehensive asset management features that help you keep track of your resources and deploy them where they're needed most.
Why Customers Choose Regroup for Critical Event Solutions
Customers choose Regroup for its all-encompassing approach to critical event management. Our platform is designed with the user in mind, offering an intuitive interface that requires minimal training. This ensures that organizations can focus on what truly matters: the safety and well-being of their people and the continuity of their operations.
Here are some key reasons why customers trust Regroup:
User-Friendly Platform

: Our system is easy to navigate, making it simple for employees to understand and use effectively.

Comprehensive Solutions

: From planning and preparedness to real-time alerts and post-incident analysis, Regroup offers a full suite of tools for managing critical events.

Customizable Alerts

: Tailor your notifications to suit the specific needs of your organization and the communities you serve.

Reliable Communication

: With multiple channels available, including SMS, email, and voice, you can be sure your message reaches its intended audience.

Scalability

: Whether you're a small business or a large enterprise, our solutions can be scaled to meet your specific needs.

24/7 Support

: Our dedicated support team is always available to assist you, ensuring that you can manage any incident effectively.
By choosing Regroup, organizations are not just purchasing a service; they're investing in a partnership committed to their long-term safety and success.

Ensure your business continuity with Regroup. Learn How.
FAQ
What is critical event management?


Critical event management is a comprehensive approach that organizations use to identify, assess, and respond to various incidents and critical events that can impact their operations.

What is a critical event?


A critical event is any situation that poses a risk to the safety of people, disrupts normal operations, or threatens the organization's assets and reputation.

What is an example of a critical event?


Examples of critical events include natural disasters, cybersecurity breaches, active shooter incidents, and other emergencies that require immediate action.

What are some of the critical functions involved in event management?

Risk Assessment

Planning and Preparedness

Communication and Information Dissemination

Resource Allocation

Incident Response

How does Regroup contribute to effective critical event management?


Regroup offers robust solutions that empower organizations to act swiftly, communicate effectively, and manage resources efficiently during incidents and critical events.

How does Regroup ensure the safety of people involved?


Through real-time alerts and emergency notifications, Regroup ensures that people are informed and can take necessary precautions during critical events.

How does Regroup support organizations in their planning for critical events?


Regroup offers comprehensive planning tools and resources, including employee training and emergency preparedness modules, to help organizations be well-prepared for any incidents.

What is Regroup's approach to critical communications?


Regroup provides a comprehensive management solution for critical communications, ensuring that organizations can effectively reach their employees, stakeholders, and communities during crucial events.
How does Regroup compare to Blackberry for critical event management?


While both offer robust solutions, Regroup's cloud-based platform provides a more flexible and scalable approach to critical event management (CEM). Our focus is on resilience and seamless integration with your existing network.
What makes Regroup's platform secure?


Regroup prioritizes security at every level. Our cloud-based network undergoes regular audits and adheres to the highest industry standards to ensure your data is secure.

Can you tell me more about Regroup's CEM features?


Certainly! Regroup's Critical Event Management (CEM) platform offers a range of features designed to enhance resilience, including real-time alerts, asset management, and disaster recovery plans.

Why do customers prefer Regroup?


Customers choose Regroup for its user-friendly interface, comprehensive feature set, and excellent customer service. Our blog also offers valuable insights into best practices for critical event management.

How can I stay updated with Regroup's latest features and updates?


You can stay updated by following our blog, which regularly features articles on new updates, customer success stories, and best practices in critical event management.

Is Regroup a good partner for disaster recovery planning?


Absolutely. Regroup's platform is designed to not only manage disasters but also to aid in the recovery process. Our tools help you plan, communicate, and execute your disaster recovery strategies effectively.