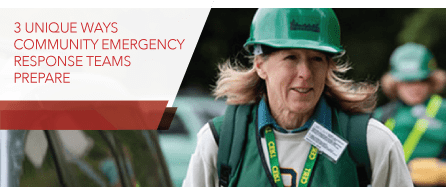 CERT Preparedness
April 30 is National PrepareAthon! Day and we'd like to share three unique ways Community Emergency Response Teams (CERT) from around the country practice emergency preparedness in their neighborhoods.
Texas
In the Lone Star State, CERT teams sharpen their skills using the model of the quintessential Texas event—a rodeo round-up. Hosted by the Harris County Citizen Corps, CERT Team participants representing 46 teams from around the region and state met up on February 7 to participate in a variety of challenges designed to exercise their disaster training.
Broken down into ten stations, the challenges ranged from basic triage and search and rescue, to fire suppression, hazmat recognition and incident command operations. This year also included a K9 demonstration.
Harris County Judge Ed Emmett said, "This event gives CERT volunteers an opportunity to exercise their disaster training. It is not about winning or losing, but about being prepared." Harris County CERT has more than 22,700 trained volunteers and over 250 teams.
Mississippi
CERT competitive events make CERT training fun and engaging, as CERT teams in Mississippi can attest to. Facilitated by the Mississippi Office of Homeland Security and Mississippi Citizen Corp, Mississippi State University played host to the 15th CERT Olympics and local businesses across the state showed their support for the event by donating food, volunteers and supplies for the sessions.
Over three days, ten CERT teams consisting of ten people each from around the state took part in some friendly competition. In the morning, teams attended training sessions that included triage, setting up a treatment area, fire safety and building search and clearing.
The afternoon portion included skill stations where the teams' abilities and knowledge were tested on the same topics as the training sessions. Organizers introduced two activities to the event that were very well-received by participants—an outdoor grid search and hazmat awareness.
You can read more about the CERT Olympics here.
Puerto Rico
Did you know that thirty-five percent of all CERT programs provide training specifically to youths and teens? One of the many success stories of the effectiveness of Teen CERT programs is in Puerto Rico, where young people are taught basic safety skills and in turn teach their parents and family members what they've learned.
To make learning fun and exciting for the trainees, the Puerto Rico Teen CERT program includes hands-on activities such as learning how to use a fire extinguisher.
An innovative way Puerto Rico CERT teams spread the word about emergency preparedness is through hurricane tours. What they do is blast music from the back of trucks to draw people in and then take the opportunity to talk to them about emergency preparedness. The Puerto Rico CERT program has shown that combining fun activities with valuable safety information can be a winning emergency preparedness strategy.
Learn more about the CERT Program and where to find a Community Emergency Response Team in your area by visiting FEMA
Click here to find out how you can join America's PrepareAthon!